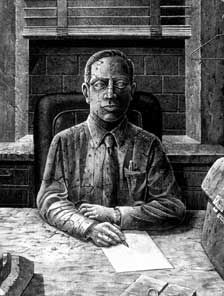 Don't get stuck in a rut.
OK, this is a check list that every small business should consider. You may already be doing all of these things, if so give yourself an A+ and the drinks are on you. If you do 4 out 5, you're a B; 3 out of 5, a C, and less, well, let's not go there. And if you do none of these and still run a successful biz, congrats, how do you do it?
1. Make a yearly marketing plan. Basically write down all of the things you are going to do to promote your business AND schedule them. Ad campaigns are more effective when they appear consistently; social media engagement suffers if you take weeks off from it; blogging twice or more a week reaps huge long term "Thought Leader" benefits. Don't wait until a slow period to do promotion; keep it ongoing, fresh and "attractive" (meaning it actually gets you new customers or at least response).
2. Ask your customers questions about your business, their likes and dislikes, what you could do better, what they'd like you to do, etc. Ask other business owners and professionals what they think about your new marketing plans; or product additions; or general advice. I'm always amazed and impressed by how much information people will share if you just ask and act interested. And most importantly: listen more than you talk, follow up answers with more questions, and show gratitude.
3. Delegate to professionals that which professionals do best. I have a client who insists that she can run her business, and learn everything about social media marketing, and do promotional planning, do her own PR and learn to tweak her own website. She is constantly creating and stressfully putting out one fire after another. Why do you have to be an expert in all things? Concentrate on your core business; learn a little about promotion, but let a dedicated pro do the heavy lefting. You'll sleep better.
4. Create a system for following up with new leads, customer problems and the like. Develop scripts and procedures; allocate specific time each day or week for someone to reach out and engage.
5. Reevaluate on a set time line. Is your marketing plan working? Check analytics from your website; measure response rates form an email campaign; examine your "followers" and friends on social media and decide if you need to do better. Tweak anything that isn't performing well or drop it. Try some "A-B" testing to see if your landing pages could work better. The key is doing all of this regularly, on a schedule.
6. Investigate buying from deal sites, especially the new ones focused on B2B sales. A penny saved is a penny earned, and these sites can help you try out new products and services, usually for half of  the normal price.
There are tons of other things all businesses can do to increase profitability, engagement, customer satisfaction and healthy expansion. All you A+'ers out there, take a bow.
What other ideas do you use or suggest?
Tags: Advice, Free Tips, Lead Nurturing, measuring, Tips