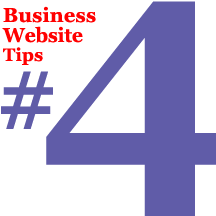 In order to make your website experience one people will refer to and recommend you need to get an emotional response. When someone comes to your website, what do they remember? You want them to get the feeling of a trusted friend, or at least a trusted, thoughtful and/or useful business source. To make that warm and fuzzy connection you need to remember that websites can sometimes be cold and distant if they're only glorified sales pitches. Adding customer support features and other human touches goes a long way to "friending" your viewer and creating a personal connection. After all, your website should be an extension of your best practices and present best side. With that in mind here are this installments tips:
Be Memorable: Try not to use templates that give your site an impersonal look. Use great images and a coordinated color scheme that is unique. Consider your target audience and make sure your website represents you in a way that your clients would appreciate. Being bold or unexpected is OK as long as you remember that communicating clearly is your primary goal.
Use Testimonials: Try not to praise yourself or seem to brag, let other voices do that. In fact other voices are much more likely to be listened to than your own even when people don't know the actual source. But of course if you can get reviews from well-known sources or other professional opinions, by all means incorporate them. People today, especially web users, are sophisticated, somewhat cynical consumers. They don't automatically believe what a company says or promotes, but they are influenced by others' experiences with a product, service or business, so use testimonials to create a halo effect.
Emphasize Customer Satisfaction/Service: Make sure your policies and customer service strategies are clear and simple. Good customer service is another reason to choose you. Offering guarantees of satisfaction shows your confidence in what you do and it transmits a "what do I have to lose" premise that can change potential clients into bona fide clients. Simple return policies, a technical or help hot line and shipping options and pricing are all good strategies to make people more comfortable in having a relationship with you. It's the reassurance factor that we are aiming for; it just makes sense to treat your clients as you would like to be treated.
Tags: Advice, internet marketing, online postioning, Web Design, Web Development