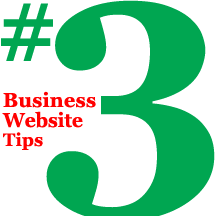 Next up for discussion on what goes into making a great business website is content. You need to give the people what they want. Sure content is king, but what content and how much? Well here are some basics, in no particular order:
1. Usable, Engaging Content: Organize the information on your site with the most important items first, next important next and so on. Think carefully about what your clients might need on your website and make sure they can get it easily. In addition to all the obvious "physical" information about your business or service offer them advice and tips, links to other sources of related info, an FAQ's page, photos and videos, and anything else that can be viewed as added value to your users. Become a source for them to turn to and hopefully they will sing your praise to others.
Be Totally Honest: Don't exaggerate and oversell yourself, be transparent and forthcoming. People today are too savvy to be fooled by wild claims and misleading hype. And don't shade the truth either, if there is a negative in your business, tread lightly, but don't misrepresent. Be authentic. People like to hear it straight.
Expand Communication: Using your website to announce new offerings, products or services or even market trends in your industry, adds another layer of opportunity to enhance your reputation and increase sales. News items can be used to entice media outlets such as local and national magazines and newspapers to feature you as a story or source. Encourage engagement by asking for opinions and advice. Interact with your users and they will love you; it's a form of special treatment.
Be Direct: Websites need to serve their users. The easiest way to do this is to present information in a friendly concise manor. Whatever tone you adopt, make sure you keep it simple and direct. Be thorough in the most concise way possible. Unless your product or service is writing don't overindulge in wordiness and repetition.
And with that in mind I'll end here and continue in my next post.
Tags: Advice, Consumer Behavior, Promotional Strategies, Web Design