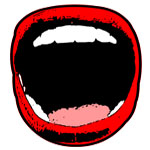 Social media sites allow users to become part of an online network; allowing people to interact with friends or colleagues in ways that were never before possible. These sites provide a fantastic opportunity for businesses to communicate with specific audiences; efficiently, effectively, and often.
.
Unlike trying to win new customers – or retain existing ones – through 'interruptive advertising' such as magazine or newspaper ads, direct mail or even press releases, the social media marketing approach is rooted in engagement. If you want to make an impact and stand out from the competition, it has never been more important to enter into a dialogue with your clients/customers/users, and engage with them on a number of levels.
.

Full Voice Media will build & support a strategic marketing online presence for your business, brand, or service. We will do so by creating accounts on all major social (and business) networking sites and populating the profiles, fan pages, and about me's with the information you want your customers to know. Using our tested methods of network building we will build the 'friend' base on each account; effectively building larger and larger mailing lists.
.
We will work with you to develop marketing talking points, advice and information that will be regularly updated to these communities. But social and business networks are only half of the equation; we also find industry specific blogs, journals, forums and interest groups in which potential customers congregate. We'll build a presence for you to develop positive relationships with that community. By offering your advice and help to the online community you will build trust and loyalty. Our staff will become deeply involved on these sites representing your business, brand, or service in a way that promotes your offerings.
.
This is effective Social Media Marketing.
.

Social Media Marketing provides many benefits for businesses:
•Fits Any Budget: This new form of marketing is incredibly effective while relatively inexpensive.
•Gets the Word Out Now: It provides instant (and viral) communication with a large audience.
•Assists Traditional Marketing Efforts: Social media marketing can be used as a low-cost way to reinforce traditional marketing campaigns and drive business to your website.
•Identifies with Your Audience: Many social media sites offer tools that allow for feedback or recommendations from customers or colleagues.
•Builds Your Reputation: Your presence within an online community shows customers and potential customers that you are current, you are up to speed with the latest trends … you are one of them.
.
You'll be shocked by the amount of exposure we'll create for you.
.
You focus on your business; we'll focus on getting you more business.
Tags: Consumer Behavior, Marketing, new media, smm, social media, social media marketing, web 2.0